Learn from the Rich and Famous
Tuesday, August 6th, 2019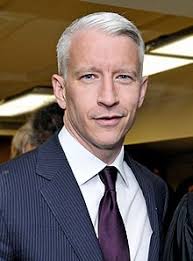 Two famous people have caught our attention this summer, CNN news anchor Anderson Cooper and singer Katy Perry. Their newsworthy stories can illustrate messages we send our clients every day.
Anderson Cooper
Anderson Cooper's mother, Gloria Vanderbilt, passed away this summer and headlines touted Cooper's inheritance of more than $1 million.
For those who do not know Vanderbilt, she inherited a "fortune" in family money and went on to create a highly successful fashion line. Speculation was that she was worth more than $200 million when she passed away in June. In her will, which was available to the public through probate court, Vanderbilt reportedly left her Manhattan apartment to one son, disinherited another son and left everything else to Cooper, her youngest son.
If Vanderbilt's fortune was close to $200 million and Cooper only got $1 million, what happened to all of the money, you may ask? Some reports indicate she spent it on a lavish lifestyle and charitable donations. Another explanation is that Vanderbilt set up a trust to distribute funds privately, which is the point of our blog.
We often counsel clients about the very public nature of a will compared to the very private method of using a trust.
In this case, not only is Vanderbilt's net worth available for the public to gush and gossip about, but the public nature of the will makes it clear how she felt about her three sons. And, that could have been her intention all along. But, if you have family business you want to keep private, we encourage you to work with us to pass along your assets easily, cheaply and privately using a trust-based plan.
Now to Katy Perry
At the end of July, a California court unanimously found that Perry's 2013 song called "Dark Horse" was copied, at least in part, from a 2008 Christian rap song, "Joyful Noise", by Flame.
We can only hope that the 34-year-old Perry has her funds protected in a trust which cannot be touched by a huge monetary award that Flame may be entitled to receive.
This is a great example of what we mean when we talk with clients about 'protecting assets'. If Perry's estimated $300 million is simply in the bank it is all exposed to an award that might go to Flame. If the bulk of it is protected in a well-written trust, it cannot be tapped for a settlement.
While you may not have millions of dollars to protect from the public eye or from lawsuits, your own life savings are worth protecting. If you are ready to get your estate plan in writing, give us a call.